Travels to French Polynesia
French Polynesia is a true paradise where you will find exotic natural landscapes, crystal clear waters and a local population that will welcome you with a big smile. The country is made up of 116 islands of which only 67 are inhabited, a truly magical environment to be discovered, ideal for honeymoon trips or even a very special family vacation.

Most of the islands of French Polynesia are atolls, ancient extinct volcanoes that over the years have given rise to beautiful lagoons of crystalline waters in which a great diversity of marine species inhabits. You can practice all kinds of water activities, from snorkelling or paddle boarding to jet ski routes or romantic sunset cruises.

For diving enthusiasts it is an essential place, especially in the months of July to October, when humpback whales migrate north with their sightings usual in areas near the islands. In addition, you will be surprised by the variety of landscapes you will find.

You can tour the jungle of Tahiti or discover the long plantations of Moorea; you can even spend a full day exploring the cultural heritage of Bora Bora and end the day enjoying fantastic sunsets over the Pacific waters. The choice is yours.
Available tours for your trip to French Polynesia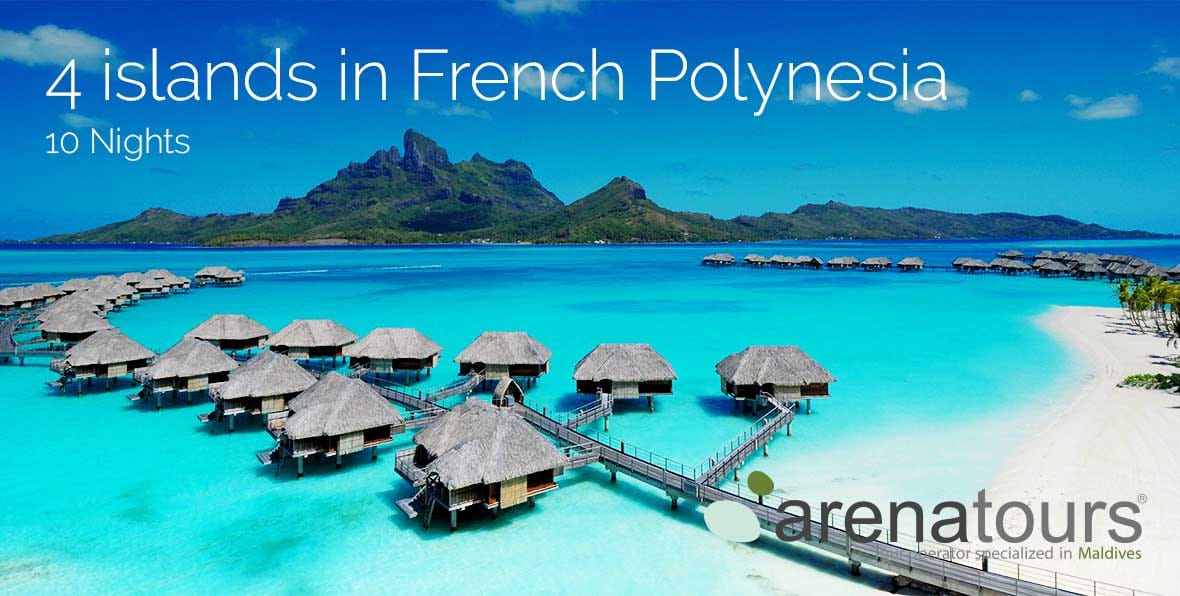 Travel offer to French Polynesia: 4 Islands, 10 nights
| £5,320
Experience the magic of everyday life in French Polynesia. During this 10-night trip you will discover the exotic Bora Bora, the wild nature of Moorea...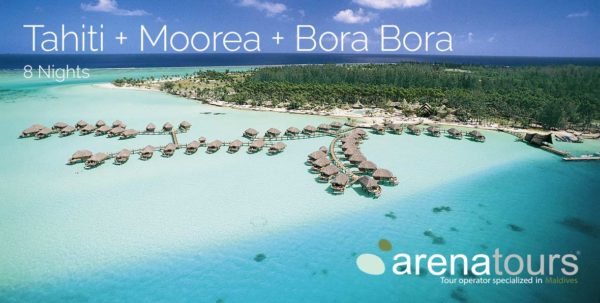 Travel offer to French Polynesia: Tahiti, Moorea & Bora Bora (8 nights)
| £4,820
In spring discover the jewel of the Pacific with this trip to French Polynesia that will make you unearth the three most important islands of the Society archipelago: Tahiti, Moorea and Bora Bora.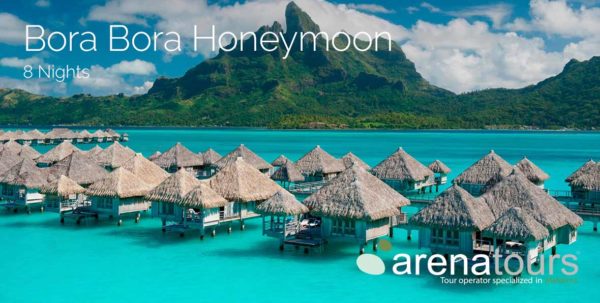 Travel offer to French Polynesia: honeymoon in Bora Bora, 7 nights
| £7,270
Live an unforgettable honeymoon in Tahiti and Bora Bora with this trip to French Polynesia that includes 6 nights in the 5* ST. Regis Bora Bora Resort in a suite with amazing views.
Experiences and activities for your travel to French Polynesia
Hotels in French Polynesia
All our destinations
TRIPS TO TAHITI:

Tahiti is the neuralgic point of French Polynesia, it is the island where the capital and the international airport are located. It will be the first place you will meet upon arrival in this magnificent country. From wherever you're arriving from, you will be greeted with a wide smile and a necklace of natural flowers.
The island of Tahiti, of volcanic origin, offers black sand beaches and breathtaking views from its mountains and viewpoints. Here you will find the famous wave of Teahupoo, a reference for surf lovers. When in Papeete, the capital, be sure to visit the local market, where you can buy local products such as Monoi oil, aromatic flowers or their traditional pareos.
TRIPS TO BORA BORA:

The Pearl of the Pacific, as many have called Bora Bora, stands out for its beautiful and wide lagoon. This is because, on the main island, an ancient volcano already extinct, is surrounded by various coral reefs called "motus". The coral bottom as well as the depth changes create different shades and colour ranges in its crystalline waters; it is truly a magical sight to see.
The main island has an extension of 32 km so it is perfect for cycling and calmly enjoying all of its charms. The main beach is Matira, although it is best to explore the lagoon by boat and snorkel with sting rays, lemon sharks or blackheads among many other fascinating species.
The excursions on the island will not be any less surprising, because there's the chance to explore the different routes from where you will find archaeological remains such as the Marae or even some World War II shelters and canyons, next to spectacular viewpoints from where you can admire the beautiful sunsets from privileged enclaves.
TRIPS TO MOOREA:

Only 30 km from the capital is the island of Moorea, the second largest in the Society archipelago. This volcanic island offers the perfect balance between sea and mountains. Here you can enjoy one of the most beautiful lagoons and snorkel or dive in its crystal clear waters. Do not miss the opportunity to go trekking following in the footsteps of Captain Cook to the Mirador O'Belvedere or stroll through the immense pineapple, banana or vanilla plantations.